Mexico has seen a recent shift fr om in-land to online gambling and Altenar's reports suggest this will continue to grow, expand and eventually, drastically increase Mexico's iGaming market revenue.
In line with the global market decrease for in-land gaming, given the pandemic, Mexico's market has witnessed the same eb and flow, however, with a greater inclination for online access and purchasing power rising in the country, iGaming is quickly becoming one of the top gaming verticals for the country because it's easily accessed via mobile or desktop devices.
Along with this growth in secure digital payments, cost-effective applications and deeper internet penetration the likes of Altenar have been able to operate within Mexico with greater success than ever before.
With a mobile-forward way of thinking, Altenar's several data providers, customisable software and risk management capabilities makes it one of the most used sportsbooks in the country, though this isn't the only reason that the Mexican sports betting market is growing with such vigour.
Let's take a look at some of the data extrapolated from Altenar's market reports to shed light on the world of sports betting in Mexico…
Regulation Is King For Mexican Sports Betting


One reason for Altenar's success on the market, and in turn, the sustainability and harmonious ecosystem of Mexico's sports betting market is because of the strict adherence to the country's regulations.
Without rules around gaming it simply can't be fun and Altenar understands this need for regulatory markets. Hence why Mexico and Altenar are the dream team for sports betting.
Altenar's market report discovered that the highest earning betting type for the region was sports betting and as the world grows ever-more tech-savvy it's no wonder that iGaming is drawing in the highest revenue for regions like Mexico.
The graph below, extrapolated from Altenar's findings, shows that sports betting draws in a revenue that's significantly higher than the likes of Casino(25%), Poker(5%) and Bingo(8%).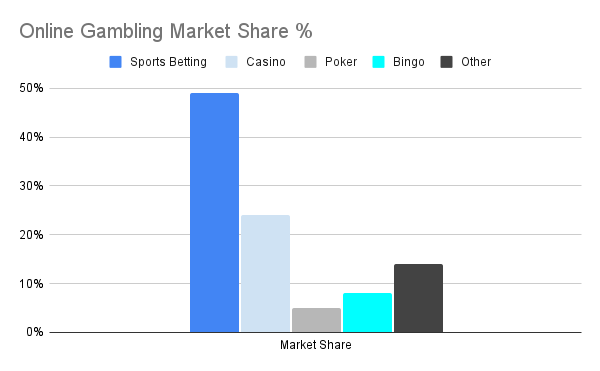 In line with these figures it's no wonder that the minds behind iGaming operations are looking to open-up businesses in Mexico that takes a portion of the above percentage market shares ; Altenar having extensive regional expertise, can help you today to start that journey to sportsbook success.
Visit Altenar's website today and learn why the sportsbook provider is wh ere stability meets flexibility and discover what their sports betting software can do for you by requesting a demo from the passionate professionals behind one of the market-leading sportsbooks.
Mexico's iGaming market is on the rise and you could be making a decision today ahead of the inevitable curve.